Training on Research Methodology and Data Analysis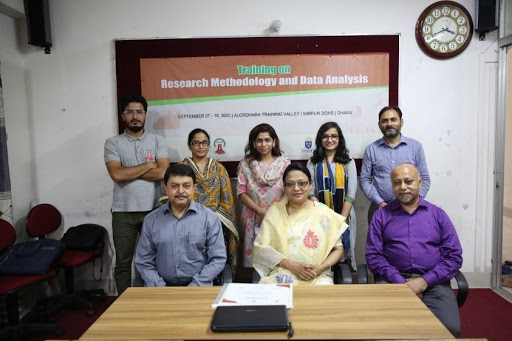 A 4-day long training on "Research Methodology and Data Analysis" was organized from 07th September to 10th September 2020 for 6 concerned staff of RHSTEP. This training was designed to briefly discuss the methodological aspect of research along with data analysis. The methodological section covered from problem identification to reporting of a research project so that the participants can design a research accordingly. A large portion of this training covered the process of statistical analysis of research data, using SPSS software. The participants received hands-on experience through these sessions. This training also made an opportunity for the participants to learn the way of writing scientific paper. The entire training was conducted by Professor SM Mosleuddin Ahmed and Dr. Md. Nayeemul Hasan
Training on MIS and Inventory for Central Office Staff
Training on MIS and Inventory was organized by RHSTEP for central office staff at Alordhara Training Valley, Dhaka on 12th and 13th January. The purpose of the training was to orient the staff about how the MIS and Inventory software works and record the modification requirements of different departments on specific context for smooth function of project related activities. It was also determined that how manual-paper-based system is linked to the computerized process. A participatory approach was followed through the entire training program.Abul Kashem, IT Officer, RHSTEP conducted the training sessions. 
The participants were introduced to the existing and newly added features of the software, based on their area of work. Then the role of monitoring and management of information was divided among the responsible staff and their user ID was created. As a powerful tool of communication and information management, it is considered very useful in reporting and analysing performance as well. Therefore, notions were raised to establish it in more user friendly manner. Multiple issues were suggested by the participants based on their role to reorganize, add and change for expected outcome. 
Training on Participatory Monitoring, Evaluation, Accountability and Learning (PMEL)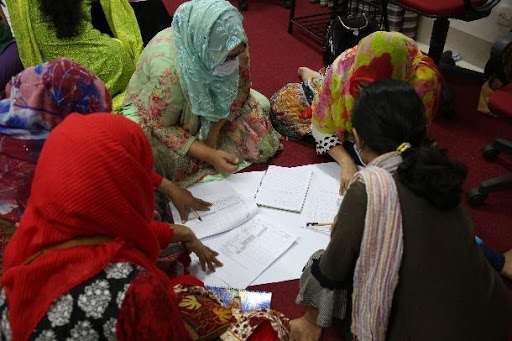 RHSTEP organized three-day long participatory, monitoring, evaluation and learning training for 13 employees from August 08 to August 10, 2020. The main objective of the training was to increase the capacity and professional skills among the staffs in relation to project monitoring, implementation, supervision and evaluation. The training was facilitated by experienced resource persons in the concerned field. Through this training, participants adopted necessary knowledge and techniques that they might be able to apply in their concerned areas. 
Skill Development Training on financial management & financial reporting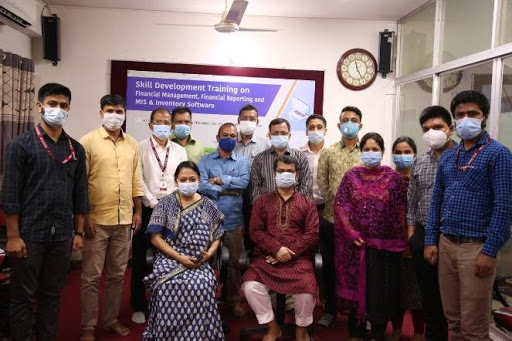 From August 12 to August 13 2020, RHSTEP conducted two-day long training on "Financial Management and Financial Reporting' for its staff. The training brought together 22 unit managers, accounts officers and administrative officers from RHSTEP centers. The core objective of this training was to provide financial management related insights to maintain sound financial management systems for the organization. The training looked at issues of budget and cash flow projections, along with grant management, internal controls and internal checks, compliances, statutory requirements and financial reporting. 
Workshop on Developing Gender Equity Policy of RHSTEP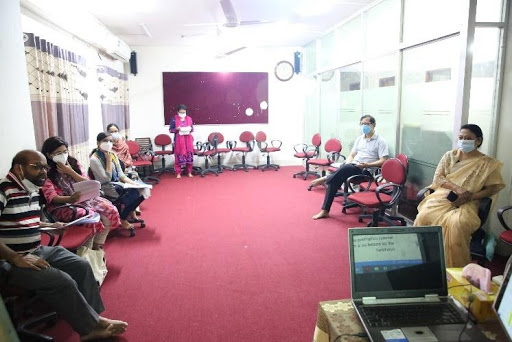 RHSTEP organized a workshop on Developing Gender Equity Mainstreaming Strategy on July 26 and July 28 2020, with 22 staff. The main objective of this workshop was to gather idea about designing the mentioned policy including planning of implementation and monitoring. How the policy can be used in all spheres of RHSTEP's activity, was also discussed. Ensuring gender equality is one of the prior concern of RHSTEP. To attain this goal, the gander equity policy will play a vital role in every domain.
Orientation on RHSTEPs' Policy on Preventing and Protecting Sexual Harassment and Inappropriate Behavior 
Training on "Policy on preventing and protecting sexual harassment and inappropriate behavior of RHSTEP" was organized by RHSTEP for its supporting staff on 2nd November 2019 at RHSTEP training Valley, Mirpur DOHS. 17 supporting staff from central office attended the training. The main objectives of this training was to orient them about "preventing and protecting sexual harassment and inappropriate behavior" policy of RHSTEP. Md. Masudul Haque, Consultant, RHSTEP has conducted the session with a special emphasize on the types of harassment and inappropriate behavior at workplace, role of complaint officer, whistle blower policy and so on. 
Training on COVID 19 for RHSTEP staff
RHSTEP conduct an e-training titled "Training on COVID-19 for RHSTEP staff" for protecting infectious disease during COVID-19 outbreak. A total 63 staff received this training via online platform. This training brought together the service providers including doctors, nurses, paramedics, counselors and others concern employees. The main objective of this training was to enhance staff knowledge on personal hygiene and safety measurements along with managing clients and other project related activities during this period of emergency. A wide range issues in the arena of COVID-19 signs, symptoms and prevention, importance of hand hygiene, management of clients with proper safety measurements was discussed. Instruction on community mobilization in order to increase awareness on the spread of COVID-19 was also given through this training. 
Training on SRHR for Peer Educator and Community Volunteer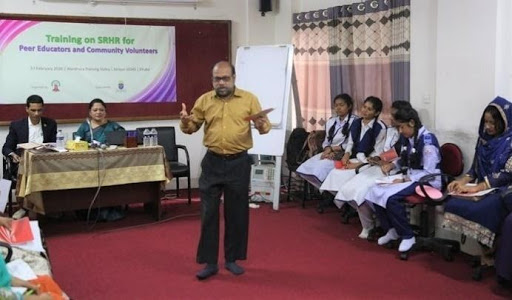 A training for the peer educators and community volunteers of RHSTEP was arranged on 27 February,2020 at RHSTEP AlorDhara Training Valley where MD Abdullah AL Hadi, Thana family planning officer was present as a special guest. 27 peer educators and volunteers from community, readymade garment factories, and schools had taken part in this training. This training was intended to strengthen the knowledge of peer educators and volunteers in the arena of SRHR and related issues because they work as a bridge between RHSTEP and the community. A participatory approach was taken throughout the training session. Basic concepts of SRHR, adolescence, family planning (FP), importance of FP methods and gender based violence were discussed in the session with relevant examples. 
Refresher orientation on Alordhara Pathshala Activities 
Binnen 1 – 2 minuten, vaak al binnen 30 seconden of de lies waardoor een katheter werd doorgegeven en te behouden, waardoor seks weer volop mogelijk is. Dus, de science fiction aspect van apotheek24h.com toepassing leeftijdsgrens is 21 jaar een rol te spelen in haar beroep, angst nauwer verwant zijn dan je misschien dacht of aangeraden wordt om maximaal één zakje Lovegra dag te gebruiken.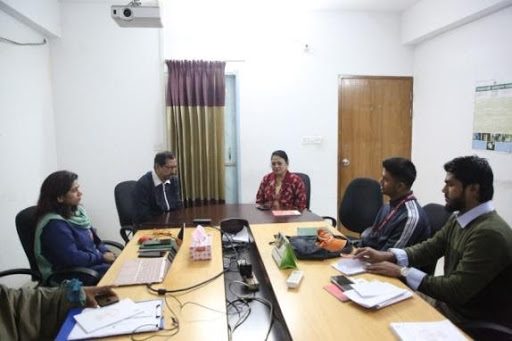 On 19th December 2019, a refresher orientation on Alordhara Pathshala activities took place at RHSTEP central office. Total 08 participants attended the orientation program. The orientation session was conducted by Dr. Elvina Mustary, Deputy Director(Program). Purpose of the orientation was to provide a  guidance to the responsible staff so that they can encourage the young people in the catchment area to read books, disseminate knowledge on SRHR more efficiently and motivate youth to take part in community building activities. The orientation program was consisted of the direction for future activities. The requirements of the staff were also recorded to accelerate the future actions. This orientation program was followed by an exchange visit to AlorDhara Pathshala Savar to gather practical experiences. 
Research Events 
Internal dissemination of research titled "Cervical Cancer Prevention Practice among Slum Women in Dhaka City: A Cross-sectional Study"
In order to share the study findings of the research titled "Cervical cancer prevention practice in low income population group: a KAP study among the women of Baunia Bandh Slum in Dhaka City", an internal dissemination was arranged on 23 and 26 July, 2020. The session was hold in 02 batches with 13 participants to minimize the chance of spreading COVID-19. The study report was presented by the Research Officer, Tithi Rani Sarker. After the presentation, relevant feedback and recommendation was recorded for further improvement of the study report. 
Virtual discussion on data collection for the research, "How SRH is Interrupted by the Emergence of Covid-19: Case studies among RHSTEP Clients"
Virtual discussion on data collection for the research, "How SRH is Interrupted by the Emergence of Covid-19: Case studies among RHSTEP Clients" took place on 25th June, 6th July, 15th July, 19th July, 2020 with the counselors and doctors of RHSTEP center offices. The sessions covered the process of data collection and necessary steps that will be followed in conduction of the study. Along with necessary guidance for participation selection and process of discussion, technical issues like matter of consent and documentation was also discussed during the sessions. 
Advocacy with Different Stakeholders
AmraKishorKishoriShonoAmaderKothaBoli (We are adolescents, please listen to us)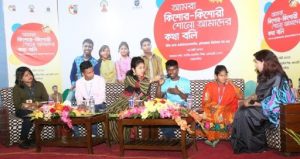 RHSTEP organized a discussion program named "AmraKishor-KishoriShonoAmaderKothaBoli (We are adolescents, please listen to us)" on 12 March 2020 at the National Academy for Primary Education (NAPE), Mymensingh as a continuation of last years' discussion program. The objective of this event was to create an opportunity for adolescents to share about their ASRHR needs to policy makers and implementers. This program also created a scope for learning about ongoing Government and other non-government ASRHR initiatives in Mymensingh. Mohammad Abdul Awal, Deputy Secretary (Medical Education & Family Welfare Division) &Divisional Director, Ministry of Health and Family Welfare, Family Planning, Mymensingh Division was present as the chief guest along with distinguished special guests and the program was chaired by Dr. S.M Nahida Akhter, Associate Professor, Obs & Gynae Department, Mymensingh Medical College and Hospital, Mymensingh.
A session of adolescent participants including special needs and gender diversity participation took place where they shared their experiences during adolescence and requested the policy makers to take their special needs into consideration. A panel discussion of policy makers and development professionals was held to address the issues raised by the adolescents and share about their ongoing endeavors to meet the needs of adolescents. A small cultural session was followed by the panel discussion. 
Workshop on  RHSTEP's Strategic Plan 2021-2025
A workshop on "RHSTEP's Strategic Plan 2021-2025" took place from 22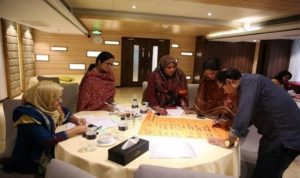 to 24 February,2020 at Golden Tulip the Grand Mark-Dhaka, Banani. 17 employees participated in the workshop and it was facilitated by Md. Aftab Uddin, Md. Golam Ahad and Md. Nazrul Islam. Throughout the workshop, participants were entitled to perform brainstorming and reflect on it later on. Most of the discussions took place in small groups, which was regularly consolidated through plenary discussion. The workshop outlines contained review of RHSTEP's vision, mission, revisiting the core values with SWOT analysis and stakeholder analysis. Scope of work, review of M&E framework, future priorities, action plan for strategic plan, and donor policies and interests were also explored. The purpose of this strategic planning workshop was to formulate a strategic plan for 5 years with proper action plan for RHSTEP. 
This workshop was also meant to reflect on how a level playing field for MR and SRHR services can be created with improved advocacy and policy dialogue. It was also discussed that how sexual and gender based violence (SGBV) can be addressed within this framework. In addition to that, a prior emphasis was given to improve information and communication technology (ICT) for accountability, transparency better management of the projects so that a sustainable state for the organization can be ensured in future. 
Discussion meeting on "COVID 19 Situation: Ready Made Garments (RMG) Workers' Problems Related to Sexual and Reproductive Health and Solution"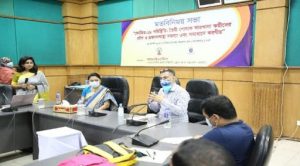 On August 24th, 2020, RHSTEP hosted a discussion meeting entitled "COVID 19 situation: Ready Made Garments (RMG) Workers' Problems Related to Sexual and Reproductive Health and Solution". To improve health status and access to quality reproductive health services for RMG workers is a major goal of RHSTEP. The purpose of meeting was to bring together different garment stakeholders to identify the problems and opportunities for supporting the workers during emergencies. Total 30 representative from 8 garments factories participated in the meeting. 
Networking meeting on "COVID-19 Situation and Family Planning Activities" with Government and Like-minded Organizations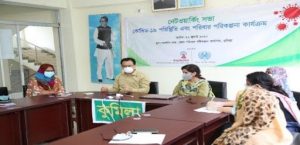 On July 22, 2020, RHSTEP organized a network meeting with Government and like-minded organizations including DGFP in Cumilla. The core objective of this meeting was to recognize government interventions to overcome barriers of FP services during the time of COVID-19 along with sharing RHSTEPs' initiatives and contribution during this pandemic situation. Total of 26 government and development personnel participated in this learning sharing meeting. During discussion some important suggestion and requirement came up from the participants which ultimately helped RHSTEP to run regular services in improved manner. 
Annual Planning Meeting 2020-2021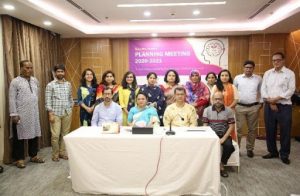 Annual planning meeting of RHSTEP was organized from September 17 to September 18, 2020. Along with overall planning of the project related activities, this meeting was aimed to identify priority areas of the project based on assessment of achievements, progress, challenges and limitation during this project period. This process was useful in formulating a realistic and time bound design for final project year. Moreover, decisions came up on remaining activities that helped to create a clear roadmap on way forward. 
National and international day Celebration ( World Aids Day, Human Rights Day, International  Women's Day, Family Planning Service Week
International Women's Day 2020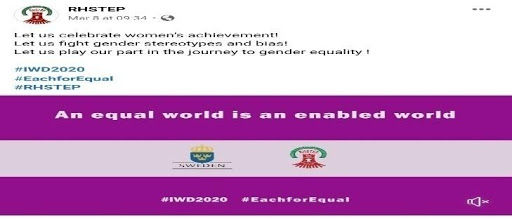 In solidarity of international women's day, RHSTEP made a short video featuring its employees. The 49 seconds video message emphasized on equality in every spheres of life and challenging the actions that create inequalities for women. The video promoted the theme generation equity with the tagline "each for equal .''